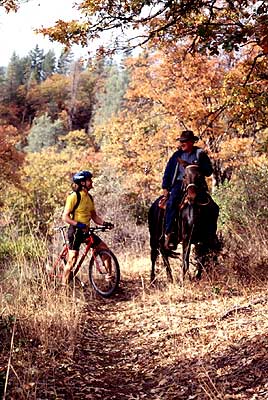 Multi-use Trail System

The Weaverville Basin Trail Project began in 1989 with the inclusion of the Weaverville Basin Trail System in the Recreational Element of the Weaverville Community Plan. The Weaverville Community Plan was adopted by the County of Trinity as the official planning document for the future development of Weaverville, a historic gold rush town nestled in the mountains of northwest California. At that time, the Weaverville Basin Trail Committee was formed as an adhoc group of interested trail users. In 1993, the Trail Committee was adopted as a committee of the Trinity County Resource Conservation District, providing funding opportunities and a variety of resources, such as technical expertise and thus ensuring the future of the Weaverville Basin Trail.

Prior to this time, the Weaverville Basin Trails Committee was just a handful of interested people seeing a need to protect Weaverville's historic old trails-trails that had been used for generations to access mining, hunting and wood gathering areas around Weaverville. In later years, these old trails became a network of recreational trails maintained by individual users for hiking, horseback, motorcycle and mountain bike riding. As time went by and more development began to occur in the basin, it became evident that without a formal plan to identify and protect these historic trails, access would be lost.

The US Forest Service developed and approved an Environmental Assessment (EA) for trails on the lands managed by the USFS around Weaverville in 1996. Then a Memorandum of Understanding was signed between the Shasta-Trinity National Forest and Trinity County Resource Conservation District to provide a framework for cooperation in support of the trail system in the Weaverville area. This step was made to enhance the recreation experience of area hikers, mountain bikers, equestrians, and, to a limited extent, off-road motorcyclists. The Weaverville community and its visitors have benefited from an increase in recreational opportunities in the adjacent National Forest lands.

What began as a simple plan of protecting old trails has grown to include a more walkable and bike friendly community with a network of in-town trails and paths so travel by automobile is only one option to safely get around town. It also includes a plan to connect a diverse network of trails that will eventually circumnavigate Weaverville with over 50 miles of trail. It provides direct trail access from Weaverville to the Trinity Alps Wilderness Area. The Weaverville Basin Trail project recognizes many opportunities for educational, historic, and environmental interpretation. The trail will continue to draw visitors to Weaverville who are looking for easy access to a motel, hot shower, and restaurant meal at the end of their trail day. These are visitors who may one day decide to call Weaverville home. As Weaverville grows, the trail system will help maintain the rural atmosphere and quality of life we have all come to appreciate.

Post numbers and signage have been installed on most key intersections of the Weaverville Basin Trail, however, some posts have been tampered with and/or are missing. It has been a constant struggle for the volunteer trail members to keep on top of this problem. The USFS has also begun signage along some parts of the trail. Maps have been developed that depict the postmarker numbers referred to in the following trail segment descriptions. It is helpful to have a copy of this map for reference. They are available for sale at a nominal price at the Chamber of Commerce, Hays Bookstore, the US Forest Service office in Weaverville, and other businesses in town.
Weaverville Basin Trail Committee
Trail enthusiasts meet at 7 pm on the first Wednesday of each month to discuss trail projects. Join the Weaverville Basin Trail Committee on a hike or a workday. For more information, or to get on the mailing list, call us at 623-6004 or 623-2009 ext. 3.
Weaverville Basin Trail System Mission Statement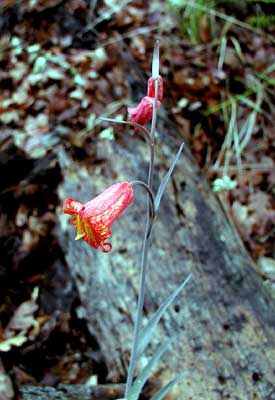 Nature Beckons

The mission of the Weaverville Basin Trail System is to develop a comprehensive trail system for hikers, mountain bikers, and horse riders for Weaverville residents and tourists. This system will foster an appreciation for the natural surroundings, plants, and wildlife of the area as well as enhancing the economy of the community through increased tourism. Through maintenance of a trail network around and through Weaverville, the many historical features of the area will be preserved and interpreted along with ensuring public access in a developing town. The Weaverville Basin Trail System will serve the community with cultural, educational, and recreational opportunities, thus providing an additional amenity that will help attract and retain a stable population base while supporting property values.
Vision
A basin-wide trail system that identifies routes across or adjacent to private lands must address the land-use, privacy, and liability concerns of landowners. This is true whether the lands in question are to remain in private ownership or are to eventually be obtained by a public agency. Respect for individuals' use of their own property and fairness in accommodating the public good without placing an undue burden on the property owner are basic tenets. The success of a trail system throughout the Weaverville Basin depends on identifying realistic trail routes and prioritizing those trail routes that will facilitate the maximum use in terms of accessibility, and a quality experience. Success of the trail system also depends on community acceptance and involvement in its planning, implementation and maintenance.
---
Return to the Weaver Basin Trail Home Page