Approximate Length: 2.5 Miles
Post numbers on map: 2, 3, 14, 20, 4
Highlights: Historic trail, follows old ditch, relatively level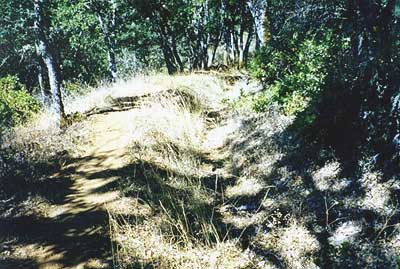 Howe Ditch

The Howe Ditch Trail spans between postmarker 20 and 14, and then the Garden Gulch Trail continues from postmarker 14 to the Weaver Bally Road at postmarker 13. At postmarker 20, access is provided to the Ten Cent Gulch and Jackass Ridge Trails. At postmarker 14, access to the Garden Gulch Trail from Weaver Bally Road trailhead is provided.

These two non-motorized shared-use trails are the oldest trails in the Weaverville Basin Trail system. The Garden Gulch Trail follows the route of the old Wood Road, a historic route that once provided access to mines along upper Garden Gulch, including the Woodbury Mine, Al Browder camp, and Mac Toope's Cabin and mining site. The Garden Gulch trail crosses two private parcels at its' upper reach, and efforts are being made to work with the owners to secure a right-of-way. Some rerouting may be possible in this area and is being looked at along the existing US Forest Service lands between these two private parcels while still providing access to the historic Al Browder site.

The Howe Ditch Trail is a level trail that contours from Garden Gulch to Jackass Ridge and winds around oak and pine covered hillsides. It is a major connector for the trail system and is another historic route of foot travel in the basin. Built originally by James Howe in 1850, the ditch delivered water from East Weaver Creek to mines north of Weaverville and later domestic water to town. Now dry, old timers tell stories of fishing in the Howe Ditch when it once ran clear and cold and fat trout prowled its' waters.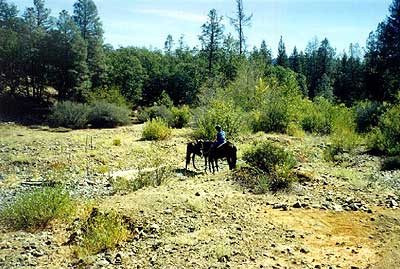 Garden Gulch (dry season)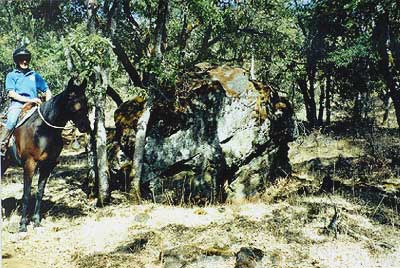 Teacher Rock
---
Return to the Weaver Basin Trail Home Page