West Weaver Creek Salmonid Habitat Rehabilitation Project
This project is open to formal public bid, beginning May 10, 2017. Download bid packet here.

(20 Mb PDF)
5/25/2017: Bid packet addendum – 401 Permit Download here.

(PDF)
NOTICE OF INTENT TO ADOPT A MITIGATED NEGATIVE DECLARATION
WEST WEAVER CREEK SALMONID HABITAT REHABILITATION PROJECT, Trinity County, California


The Trinity County Resource Conservation District (TCRCD) announces the availability of a Draft Initial Study/Mitigated Negative Declaration (Draft IS/MND) prepared for the West Weaver Creek Salmonid Habitat Rehabilitation Project. The proposed project is located on West Weaver Creek, west of the town of Weaverville, in Trinity County, California.
In accordance with CEQA, the TCRCD conducted an initial study (IS) to evaluate the potential environmental effects of the project. Based upon the findings contained in the IS, it is determined that the project will not have a significant effect on the environment, based on mitigation measures that will be attached to the project as conditions of approval. Therefore, the TCRCD intends to adopt a Mitigated Negative Declaration (MND) for the project.
The public review period begins on May 10, 2017 and closes on June 8, 2017. All comments must be received by 5:00 PM on June 8, 2017. Written comments shall be sent to:
Donna Rupp
Project Coordinator II
Trinity County Resource Conservation District
PO Box 1450
Weaverville, CA 96093
If submitting written comments, please include your name and an address, email, or phone number where you may be contacted.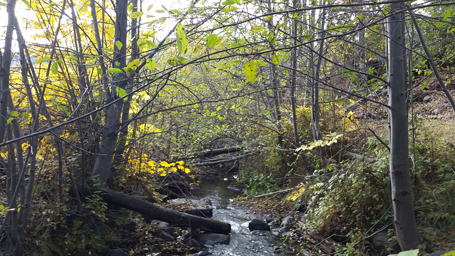 West Weaver Creek
About the project
The Trinity County Resource Conservation District (TCRCD), in collaboration with the US Forest Service and private land owners, is rehabilitating a portion of West Weaver Creek severely impacted by past mining practices and wildfires.
Partially located in the Weaverville Community Forest, the Project allows local stewardship of important natural resources and strengthens development of community-based conservation between public land managers and private property owners.
The purpose of the Project is to restore channel and floodplain connectivity and improve salmonid habitat along with natural creek function.
Implementation of this Project is funded through a generous grant from the California Department of Water Resources through the North Coast Resource Partnership and the Trinity River Restoration Program.
The project map (below) gives an overview of the planned rehabilitation.