---
SOLDIER FOREST HEALTH
---
In order to respond to the concerns expressed by stakeholders, the Trinity County Community Wildfire Protection Plan (CWPP), and members of the general public regarding fire hazard/risk, high fuel loading and general forest health within the planning area, the Shasta-Trinity National Forest is currently collaborating with community members; local community-based groups; and public agencies to assist in developing the Soldier Forest Health project.

Identified in the Trinity County CWPP Update 2010 and in the Shasta-Trinity National Forest 2010 Integrated Vegetation Management Strategy, the Forest Service hopes to work collaboratively in the Soldier Forest Health planning area to address areas of high fire hazard and crown fire potential within the wildland urban interface to reduce risks and hazards to community and resource values.


Soldier Forest Health Documents
Soldier Forest Health Project Overview - PDF (2.6Mb PDF)
December Firesafe Council Attendance List (600Kb PDF)
December Firesafe Council Meeting Minutes (60Kb PDF)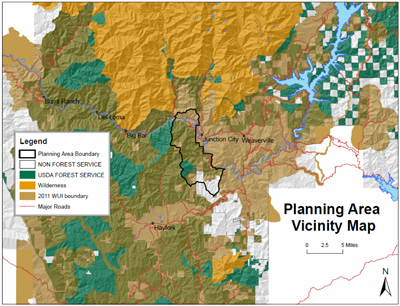 Map of the Soldier Planning Area & Vicinity
(click to enlarge).
---
CONTACT > Trinity County RCD, PO Box 1450, #1 Horseshoe Lane, Weaverville, CA 96093 | Telephone: (530) 623-6004 | Fax: (530) 623-6006
Email: pfrost@tcrcd.net | © 2009