Stimulus Funding Benefits Trinity Workers & Homeowners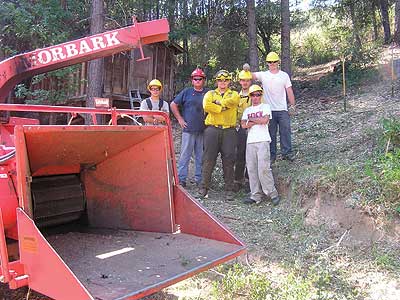 Photo credit: Mike McCallister

A program funded by a federal economic stimulus grant has provided 56 Trinity County landowners with fire-safe work around their homes this summer while providing valuable training and work experience to 11 local individuals.

The program's goal was to reduce flammable vegetation around homes and structures in the Weaverville, Lewiston and Douglas City areas for elderly, handicapped and low-income persons. It was planned and accomplished as a joint effort by the Weaverville Fire District and Firestorm Wildland Fire Suppression, Inc. Workers' wages were paid with federal funds from an American Recovery and Reinvestment Act (ARRA) grant administered by the SMART Business Resource Center in Weaverville.

A total of 73 requests for aid were received, according to Mike McMillan, coordinator of the program for Weaverville Fire District, and work was done at 56 sites. Persons who benefited from the hazard reduction work contributed what they could towards program expenses. The typical beneficiary of the program was elderly, usually female, who was not physically and not financially able to reduce significant fire hazards on property they owned and lived on, McMillan explained.

People were pleased with the work, and their comments reflected as much, McMillan said. Homeowners were relieved to have brush, small trees and other flammable vegetation cleared from around their houses. In most instances, crews cleared at least a 30-foot minimum around homes and structures, making the properties more fire resistant by taking out the worst of the brush. Many of these sites will still need more work in the 30-100 foot zone, and that could be done next year, if additional funding is provided through a proposal submitted to Trinity County through Title III program of the Secure Rural Schools and Community Self-determination Act.

The SMART center is a private, non-profit, public benefit corporation that was created to promote and foster employment opportunities. SMART receives funding from the U.S. Department of Labor and the State of California and is governed by the Northern Rural Training and Employment Consortium (NORTEC) Workforce Investment Board. It also contracts with local entities to provide workforce services and offers a variety of fee-based services.