Trinity Student Wins Statewide Speak-Off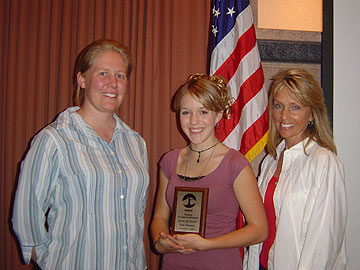 THS instructor Molly Greenwood, Katie
and her mom Renie Tenneson.

Trinity High School sophomore Katie Tenneson won the statewide Conservation Education Speak-Off contest in Santa Rosa in November with her oratory on this year's topic, "Biofuels: The Energy of the Future." The competition, open to all high school students, is an annual event put on by the California Association of Resource Conservation Districts to promote conservation awareness and education.

Katie, the daughter of Art and Renie Tenneson of Weaverville, was the youngest of the eight competitors vying to win the state finals. She was awarded with a plaque and $300. Each finalist had competed and won at local and regional Speak-Off competitions held this fall throughout California before heading to Santa Rosa. All of this year's competitors also were offered summer internships with their local Natural Resources Conservation Service office by State Conservationist Ed Burton of the Natural Resources Conservation Service. Katie's advisors were Trinity High School Agricultural Science instructors Molly Greenwood and Mike Rourke. Trinity Minerals helped sponsor her participation.

Competitors researched the topic in depth and were judged on their mastery of information, organizational and delivery skills, and in explaining how resource conservation districts can provide assistance on the issue. Students interested in competing in the 2007 Speak-Off should contact the Trinity County Resource Conservation District.