Cooperative Efforts of the Trinity County
Fire Safe Council Proves Successful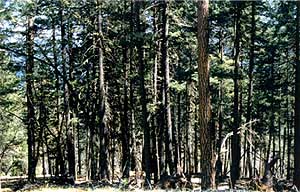 Current Condition-Fire Hazard!
Members of the Trinity County Fire Safe Council have been tremendously successful in obtaining funds from a variety of sources to implement a wide range of fuels reduction projects around the county and to continue fire safe education and outreach efforts.
Just over the past year, Trinity County Fire Safe Council members have obtained over $827,000 in funds from sources including the Trinity County Resource Advisory Committee, Bureau of Land Management, Sacramento Regional Foundation, and US Forest Service to implement fuels reduction projects. These projects include thinning, shaded fuel breaks, planning, and education and outreach.
The Trinity County Fire Safe Council was formed in 1998 to reduce the risk of catastrophic fire in Trinity County and to promote management activities to achieve this goal. The Fire Safe Council is a cooperative effort of several agencies, including many local Volunteer Fire Departments, California Department of Forestry and Fire Protection, the US Forest Service (both Shasta-Trinity and Six Rivers), the Bureau of Land Management, Trinity County, the Trinity County Resource Conservation District, Post Mountain PUD, the Watershed Research and Training Center, Trinity County Realtors Association, RC&D Council, Natural Resources Conservation Service, and members of the public.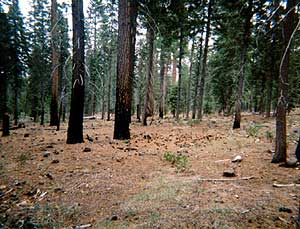 Desired Condition-Open, Park-like
Together, these groups are working to involve the residents and landowners of Trinity County in fire prevention and response preparation in order to best avoid catastrophic fires in the future.
Trinity County, with its hot, dry summers, is an area that is extremely prone to wildfires. One of the goals of the Fire Safe Council is to involve the whole community in working to protect their property as well as their neighbors' by being aware of the risk of fire damage and taking some simple steps to help prevent it. Currently the Fire Safe Council is leading an effort to develop a Landscape Scale Strategic Fire Management Plan for Trinity County. A fire safe inspection program will be conducted by the 16 volunteer departments during the coming year to guide landowners in making their properties more defensible.
This issue of the Conservation Almanac is being funded in part by grants from the State Water Resources Control Board, Department of Fish and Game, Bureau of Reclamation, Trinity County Title III, and Sacramento Regional Foundation