Hwy 299 Shaded Fuel Break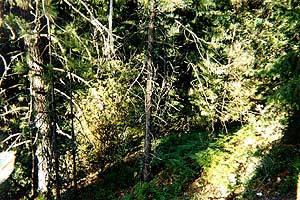 Before Treatment
Did you notice all of the work last year along Highway 299 west of Buckhorn Summit--the crew cutting small trees and the piles of brush that were burned early this spring? That was the first phase of the Highway 299 shaded fuel break project. Now Phase II of this high priority project has begun. The project is being implemented by the Watershed Research and Training Center, partners with the RCD on this project.
The first phase, a 200 foot-wide shaded fuel break on public lands, was implemented last year by the Watershed Research and Training Center for the Bureau of Land Management along 4 miles treating 80 acres. There are an additional seven miles of road and about 168 acres to address on private lands to complete this project.
Approximately 40 landowners were contacted, and nearly half have already responded favorably with the District conducting inspections on these parcels. Prior to implementing the work landowners review and approve the recommended treatment. Work has been completed on 14 parcels.
After Treatment
The shaded fuel break is a buffer along the highway created by removing brush, limbing and thinning trees. The material will be disposed of primarily by winter burning, but some chipping will take place, where this is more practical.
The work you have seen this summer is funded by the State Water Resources Control Board's Prop 204.The RCD has obtained additional funding from the Sacramento Regional Foundation in order to address all interested landowners' properties along this stretch of road.
The more landowners along Highway 299 that are willing to participate in this project the more effective it will be as a fuel break. Since this is such a heavily traveled road, and the buildup of fuels is great, the risk of fire start along this road is very high. This project has significant public support—people have been very happy about the work that has taken place so far on this critical demonstration project, which is highly visible to the public. The Trinity County Fire Safe Council intends to install signage along the highway to inform travelers about this important project.
If you are a landowner along this stretch of highway and would like more information, please call the District.
This issue of the Conservation Almanac is being funded in part by grants from the State Water Resources Control Board, Bureau of Reclamation, Trinity County Title III, and Sacramento Regional Foundation