Trinity County
Resource Conservation District
Newsletter
Vol. V, No. II - Summer/Fall 1996
Contents
---
Local Adopt-A-Watershed Program Thriving
Enthusiasm was high last year as 2,056 students participated in Adopt-A-Watershed community - related ecology projects across Trinity County. This type of learning is called "service learning." By integrating their studies with such projects, students develop their understanding of environmental issues while actively participating in organized work that meets the needs of the community.
Adopt-A-Watershed service learning enhances academic understanding of environmental issues, instills a positive attitude towards service, strengthens students' knowledge about societal issues and develops communication and problem solving skills important to function as effective citizens. The hands-on ecology projects developed in the Adopt-A-Watershed curriculum enable direct application of classroom learning into real watershed solutions. Such service learning challenges the students' and deepens their personal awareness.
Learning that takes place in real-world contexts is an effective educational tool because students see how knowledge is used in actual problem-solving situations. Such context-rich learning is in keeping with the overall trend of public education toward greater use of real-life situations as a basis for learning With this in mind, it's easy to see that school based community service is an excellent way to teach and provide valuable community assistance.
Laurel Edward's class of third and fourth grade students from Lewiston Elementary School participated in one of the 82 service learning projects completed this past year by the students and the 195 community volunteers involved in Adopt-A-Watershed projects throughout the Trinity River Basin. Laurel's class spent the Winter/Spring semester of 1996 learning about anadromous fish--fish that live in salt water but spawn in fresh water. Local specialists from the Resource Conservation District (RCD) presented a slide show about Grass Valley Creek Watershed and discussed how decomposed granite negatively affects fish habitat. Two wildlife biologists from the Fish & Wildlife Service emphasized current habitat restoration efforts and how citizens can assist these efforts.
Laurel's students then proceeded to raise steelhead in the classroom and witness their development from eggs to fry. Every wall in the classroom was covered with paintings, pictures, poetry or stories featuring anadromous fish. Students created and displayed a life-cycle mural in order to share what they learned with other students.
In April, a sudden warm spell lead to the loss of half the young fish population. Although this event seemed catastrophic, it presented an opportunity to stress the role water temperature plays in fish survival. Students discussed water depth and riparian vegetation's role, in providing shade to reduce stream temperatures, both important to fish survival.
With the help of a Fish & Wildlife Service biologist, students assessed water quality of the stream section into which the fry would be released by conducting an aquatic insect study The diversity of insects found indicated the stream section was relatively healthy. Finally, the fry reached the age when they could be released. Sixteen of the original forty fish made it to their day of freedom. Students thanked them graciously for all that was learned, wished them the best of luck and happily watched them swim down Little Grass Valley Creek.
Gabrielle Carroll, the Community Coordinator for Lewiston Elementary School, reflects on her experience with Laurel Edward's class. "With this class I saw the potential of learning that takes place when the teacher decides to take the Adopt-A-Watershed Curriculum and run with it. Because the students had an opportunity to integrate this topic into their entire curriculum, I witnessed a commitment to learning and a retention of the concepts that surpassed any of the classes I had worked with previously."
Special thanks is given to all teachers, natural resource specialists, community volunteers and local businesses for their support of the AmeriCorps Watershed Project. The students truly enjoy learning in their adopted watershed and take great pride in improving the place in which they live.
---
Trinity County WILD Program
In August the Trinity County WILD (Wilderness Inspired Learning and Development) program ventured into the wilderness on its first set of excursions. Developed to create wilderness and restoration work experience for Trinity County high school students, WILD is sponsored through a National Forest Foundation Grant.
WILD participants and their mentors spent one week in the Swift Creek Drainage and one week in the East Fork Stuarts Fork drainage, both found in the Trinity Alps Wilderness Area. This setting was chosen by the mentors to provide an inspiring environment for the students in which to learn, share, and work.
Five students attended the first trip and seven, the second. While in the Alps the students and their mentors spent time investigating their natural surroundings (studying ethnobotany, astronomy, plant identification, water quality, erosion principles, birds, and geology), working on restoration projects outlined by the Forest Service, and growing comfortable in the wilderness. They were challenged daily by strenuous work and the realities of wilderness living and travel.
In addition to hiking and working, students wrote, carved, painted, drew, composed songs and poems or sat quietly reflecting as means of integrating and demonstrating the knowledge they gained in the wilderness. Having fun was a significant part of the experience for all concerned.
The WILD program has many strengths. It provides a forum for educating students in environmental science as well as providing valuable assistance to restoration projects. Wilderness restoration projects such as campsite and meadow rehabilitation and trailwork foster a deeper awareness of erosional processes and impacts caused by humans and stock. The training for the rehabilitation projects is provided by the Forest Service. By participating in this work the students develop a sense of responsibility for the environment and the skills to protect it.
The project also provides an opportunity for interaction and cooperation between agencies and organizations interested in restoration projects. The cooperative efforts by all participants of the project heightened everyone's enthusiasm and awareness of just how effective the merging of skills and knowledge can be. The RCD, Forest Service, Adopt-A-Watershed, and BackCountry Horsemen all donated time and funds to start the project. The Forest Service donated skilled people, horses, packing and food; the RCD and Adopt-A-Watershed donated the mentors' expertise and planning skills; and the Back Country Horsemen volunteered their services, gear and horses to pack in tools and supplies.
Experiences and learning that occurred in the woods was constant and took place simultaneously. The experience supported and enhanced the students' classroom learning and sense of what community really is. For Trinity County students it provided a tangible bridge between the classroom and a real-world setting where learning can be used.
---
1996 Range Camp
Each year Trinity County Resource Conservation District (RCD) sponsors High School students at the annual Range Camp held at Elkus Youth Ranch in Half Moon Bay, near Santa Cruz. This year the RCD sponsored four students: Amanda Taylor, Kristin Jurin, Nicole Hetrick and Matt Kusrow. These students were selected because they had sincere interest and experience in ranching activities.
The students who attended highly recommend the camp. Their experiences were stimulating and challenging and left them with a feeling of accomplishment and new awareness. More than anything else, the bonds made with other students were memorable and they came away with new "friends for life".
Thirty students from all over California and western Nevada attended the camp. The students' studies focused on plant identification; erosion control; woodland wildlife; soil analysis; the role of fire; oak woodlands; stream analysis and habitat, forest, and grazing management. At the Swanton Ranch, an extension of California Polytechnic Institute, they studied how to work with sheep, cattle and goats to enhance range production and health.
Amanda, Nicole, Matt and Kristin appreciated the numerous hands-on learning experiences because they gave their new-found knowledge a real context. Lectures were a regular part of the camp and were received with mixed reviews. However, the lecture on Mountain Lions was one remembered fondly by all the students because of the possibility of encounters with the lions in their daily lives. The plant identification sessions were also a favorite because they provided practical information the students could use back home on their ranches.
RCD's Education Coordinator recruits students each Spring through high school science teachers in the county. Next year the RCD will sponsor more students at Range Camp. Students interested in attending the camp should inform their science teachers.
---
Summer Resource Conservation Work
This summer the Resource Conservation District (RCD) and the Natural Resource Conservation Service (NRCS) continued work on restoration projects throughout the county. Grass Valley Creek projects included: upgrading culverts, surfacing and regrading roads, removing full landings and roads, and replacing culverts with rocked dips. Hand crews continued to stabilize banks and gullies throughout the watershed. This work entails redefining slopes, building headcut structures in gullies, repairing structures, clearing waterbars, seeding and mulching slopes, and planting trees and shrubs.
Restoration work on private property just below Buckhorn sediment dam has been completed. This stretch of Grass Valley Creek contains critical fish habitat in the uppermost reaches that was compromised because post-dam construction stream flows were not sufficient to flush sediment out of the pools. The RCD worked in conjunction with the Bureau of Land Management (BLM) in reducing sediment flow into the stream. RCD crews built numerous gully and grade stabilization structures to assist in this goal. Heavy equipment was used as well to rehabilitate the road crossings in this area.
The BLM, NRCS and RCD are also working together to restore the "Blown Out Reach" area on Indian Creek. Assessments and surveys of the area have been completed and work will begin in September. Excavation of some areas and construction of rock revetments and vortexes will stabilize the stream channel, allowing vegetation to re-establish itself throughout the riparian corridor.
Work has been completed correcting erosion that developed in the Bucktail area after the 1994 Brown's Mountain fire as well as on the roads in Democrat Gulch. The Lee Fong Park amphitheater had water building up around it so corrective work was planned and completed there this past July.
The South Fork of the Trinity River has become a priority for restoration work because it is the largest undammed wild and scenic river in California and once supported very healthy salmon runs. Early this Spring, RCD crew members worked in cooperation with the US Forest Service planting 15,000 riparian trees on roads that were "decommissioned" or closed along the East Fork of the South Fork. They also worked on erosion control along the Upper South Fork Trail.
Simpson Timber Company, in cooperation with the South Fork Coordinated Resource Management Plan Committee(CRMP) and Pacific Watershed Associates (PWA), performed a road improvement inventory on Simpson Timber Company lands. This project involved work performed by unemployed fishermen who were trained by PWA.
A summer inventory of road-related restoration projects is currently being carried out by RCD, NRCS, and PWA for the Upper South Fork Watershed in cooperation with the Shasta-Trinity National Forest. This project will employ four people for approximately three months.
Several landowners from Trinity Pines are cooperating with the Watershed Research and Training Center, California Department of Forestry, Post Mountain Public Utilities District, the US Forest Service, NRCS and RCD in designing an erosion control and fuels reduction program for their lands.
A riparian inventory and water quality monitoring project are being conducted in the Hayfork Basin. In addition, RCD and NRCS are working in partnership with some private ranches in the Hayfork Basin to develop a long-term range management plan for more productive use of the land.
Throughout the summer, RCD revegetation crews have been collecting and drying grass and forb seeds native to Grass Valley Creek for use in future revegetation work. Their efforts will help ensure genetic diversity of the vegetation in the watershed. An RCD herbarium is being developed and a 10 year revegetation plan for Grass Valley Creek watershed is being developed. Continued revegetation of the seriously denuded slopes in Grass Valley Creek watershed's decomposed granite (sheet and rill sites) is ongoing.
---
No Till Drill:
Conservation in Agriculture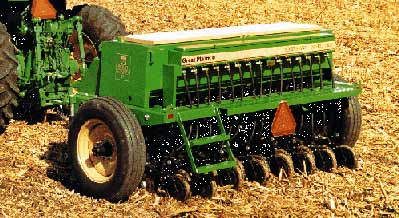 The Resource Conservation District (RCD) has purchased a seven foot "Great Plains" no-till drill which will be available to Trinity County landowners for the purpose of seeding grasses and legumes on ranges and pastures. The drill's unique design allows an area to be seeded without intensive seed bed preparation so that soil disturbance is kept to a minimum. The drill consists of a coulter blade which cuts through existing residue or sod and is followed by a seed chute which can be adjusted to varying depths. The seed is then covered with a press wheel, creating a firm seedbed which enhances soil-to-seed contact. All this is accomplished in one passing. The drill will be able to accommodate both small and large seeds and will have a fertilizer box, enabling fertilization at the time of seeding. A 45 horse power tractor with hydraulics will be needed to pull the drill.
The use of a no-till drill will provide a means of enhancing ground cover to reduce erosion and protect water quality. It has also been shown to reduce operating costs for ranchers. The drill can be used to increase the forage value of an existing pasture by seeding perennials, annuals, and cereal grains directly into existing sod. Research conducted by the University of California has shown that seeding rangelands can increase forage production by 2,000 pounds per acre above normal production. It can be used in a wide variety of terrain, but is limited by large rocks and steep slopes.
The drill will be available this Fall for a rental fee of $75.00 per day. For more information call: Carol Jorowski, (916) 623-3991 or write Natural Resource Conservation Service, PO Box 1414, Weaverville, CA 96093.
---
Non-Timber Forest Products Workshop
The second annual workshop on Non-Timber Forest Products was held at Camp Kimtu in Willow Creek this August 17th and 18th. The workshop was sponsored by: Trinity Community Graphic Information System (GIS), the Watershed Research and Training Center, the U.S. Forest Service (USFS) Pacific Southwest Research Station, Shasta-Trinity and Six Rivers National Forests and Hayfork Adaptive Management Area, Trinity Alps Botanicals, and High Mountain Herbs Cooperative. Non-timber forest products are such marketable items as herbal medicines, floral greens, mushrooms and berries.
Dr. Yvonne Everett, of Trinity Community GIS, has been instrumental in sparking debate over advantages and disadvantages of harvesting such products. She has pulled together people from all perspectives in this arena and created a forum in which they can voice their ideas, experiences and concerns. This workshop included Native Americans, the USFS, marketers, restorationists, gatherers, organic gardeners and herbalists. It continued the exchange of ideas and concerns regarding the development of an ecologically sound, sustainable approach to harvesting non-timber forest products.
Topics discussed included: the impact of non-timber forest product harvesting on ecosystems, markets and marketing, product specifications, certification of products and pickers, sustainable harvest methods and research, silviculture for non-timber forest products, harvesting limits, ecological monitoring, public land policy, permitting and stewardship.
Native Americans have been ongoing participants in this process and have patiently provided their perspectives on these issues. The sharing of their historical interactions with the environment will hopefully enhance everyone's ability to steer non-timber forest product harvesting in an environmentally healthy, sustainable direction.
Workshop participants left with a heightened understanding of the environmental risks inherent in harvesting non-timber forest products and a deeper respect for the various perspectives held by those involved.
Our Special Forest Products article in the Spring newsletter neglected to acknowledge the organizations who sponsored the first workshop on Non-Timber Forest Products, held last year at Camp Wintu. We apologize for this oversight and wish to acknowledge the hard work, organization and foresight of Dr. Yvonne Everett of the Trinity Community GIS, the Watershed Training and Research Center and the USFS in initiating discussions and examination of such an important topic. Members of the Hupa tribe, and Trinity Alps Botanicals also volunteered their support for the project.
---
Landscaping With Native Plants
There is a growing trend toward landscaping with plants native to an area. Native plants, uniquely adapted to existing environmental conditions, offer numerous advantages over non-native (exotic) plants often used in landscaping.
Most exotics require more water to survive than the drought- tolerant native species that evolved here. Because of natives' drought tolerance, they are more adaptable to the particular climatic fluctuations of this area. Natives thus require less maintenance than exotics. Also, exotic species, once established, often outnumber the native species in a given area, decreasing the genetic diversity of the entire plant population. The result is that exotic plant populations are less likely to survive climatic changes in the long run.
Many native species can be purchased that can improve fire protection, promote erosion control, increase ground water supply, reduce land maintenance expense, and provide "deer" resistance as well as color, contrast and beauty.
Shrubs include Yerba santa, Eriodictyon californicum; Wild lilac, Ceanothus spp; sourberry, Rhus trilobata; Coyote bush, Baccharis pilularis; Sulfur flower, Eriogonum umbellatum; Coffeeberry, Rhamnus californica; Redbud, Cercis occidentalis. These shrubs should be pruned to maintain control of growth after being established. Always remove dead limbs. To control growth, pinch off the terminal buds on the branch tips in early Spring. This will make pruning easier, quicker, and less traumatic to the plant. The non-native Cistus or Rockrose can also be used. It does not spread easily, is fire resistant, and deer resistant. Rockroses vary by species from a low growing ground cover to a bushy shrub.
Herbs and ground covers can also play a role in forest landscaping for better living. Poppies, Eschscholzia spp.; native roses, Rosa; Mahala mat, Ceanothus prostratus; Creeping sage, Salvia sonomensis; California fuschia, Epilobium canens; Wild grape, Vitis californica; and California blackberry, Rubus ursinus offer opportunities to cover difficult to plant places and provide erosion control, wildlife cover and food as well as beauty.
Flowering perennials, which also attract birds, butterflies and beneficial insects, include: Coyote mint, Monardella villosa; Foothill penstemon, penstemon azureus; Wild phlox, Phlox speciosa; Gumweed Grindelia camporum; Goldenrod, Solidago spp.; Yarrow, Achillea millefolium; Buckwheat, Eriogonum nudum; Mugwort, Artemisia douglasii; Biscuit root, Lomatium spp.; and Mule's ears, Wyethia spp..
Native grasses also require less water and fertilizer. Recommended for this area are Needle grasses, Nasella lepida and N. pulchra; Squirrel tail, Elymus elymoides; California brome, Bromus carinatus, and Blue wild rye, Elymus glaucus.
"A native is a man or creature or plant indigenous to a limited geographical area - a space boundaried and defined by mountains, rivers, or coastline (not by latitudes, longitudes, or state and county lines), with its own peculiar mixture of weeds, trees, bugs, birds, flowers, streams, hills, rocks and critters (including people), its own nuances of rain, wind and seasonal change. Native intelligence develops through an unspoken or soft-spoken relationship with these interwoven things: it evolves as the native involves himself in his region." David James Duncan
---
The Advantages of Using Natives For Revegetation and Erosion Control
Prior to agriculture and exploration, world plant populations generally consisted of species that were endemic, or native, to each area. These endemic species evolved for millions of years in response to the landscape and climate in which they resided and their genetics were specifically adapted to the nuances of their home.
During this time, people were nomadic hunters and gatherers, living in simple structures and moving with the seasons in search of food. This nomadic way of life did not lend itself to agriculture, so plant species were generally not domesticated or transplanted into new areas.
The distribution pattern of plants changed with the beginnings of agriculture about 10,000 years ago and was further altered with the onset of world-wide exploration. Plant species once endemic to specific geographic areas were soon spread throughout the world.
In California, the change from original to present day vegetation patterns began with the arrival of the Spanish missionaries. Father Junipero Serra, the first missionary to arrive, landed in the San Diego area in May 1769. Soon after his arrival an entire chain of Spanish missions was built (1769-1824). Exotics (plants inhabiting an area in which they did not originate) came from all continents, but chiefly from the Mediterranean region. Some exotics proved to be very prolific and adaptable and produced countless numbers of individuals that, according to their dominance or persistence, had an adverse impact on native species, in many cases displacing them.
The re-establishment of native plants in restoration work and erosion control is important because it contributes to a healthy food chain by encouraging the presence of additional vegetation and animals native to that region. According to Cynthia S. Brown of the Department of Agronomy and Range Science, UC Davis, native plant populations attract desirable wildlife species and discourage certain pests.
Native ecosystems retain nutrients effectively within their vegetation so they require few if any soil amendments such as fertilizer. Thus, they tend to be hardier and more resistant to invasion by disease. Exotic communities however, do not retain nutrients within their vegetation and generally require soil amendments. Another advantage to revegetating with natives is they provide more stable biomass production, improving soil structure. Good soil structure reduces surface run-off and helps control erosion.
According to plant ecologist David Buckner, it generally takes a year or so before native species effectively protect the soil, but within two to three years they can provide as much cover as non-natives. Native perennial bunchgrasses help reduce fire hazard because their compact island-type structure provides a built-in fire barrier. They also green up earlier and stay green later than do the annual exotics, which also reduces the risk of fire. The genetic diversity inherent in native populations also enables them to survive climatic fluctuations more successfully than exotics.
All of these reasons have led to the Resource Conservation District's plan to revegetate the Grass Valley Creek watershed with native perennial plant populations. This will increase biomass and litter (duff) on critical areas (areas with little or no ground cover) and will help rebuild soil structure by increasing nutrients and water holding capacity. The Resource Conservation District will accomplish this goal by seeding areas with native perennial bunchgrasses and forbs and mulching with straw. When soil structure is improved, the soil will have the ability to sustain a diverse population of native plants and natural succession will take place. This will eventually allow habitation of shrubs and trees in areas that were once devoid of vegetation.
Some Native Seed Suppliers
Cornflower Farms
PO Box 896
Elk Grove, CA 95759
(916) 689-1015
Elkhorn Ranch
PO Box 70
Moss Landing, CA 95039
(408) 722-5889
Larner Seeds
PO Box 407
Bolinas, CA 94924
(415) 868-9407
Pacific Seed Company
6144 Industrial Way
Livermore, CA 94550


Redding Arboretum
PO Box 990185
Redding, CA 96099-0185
(916) 243-5451
Synergy
PO Box 323
Orleans, CA 95556
voice mail: (916) 321-3769
Althouse Nursery
5410 Dick George Rd
Cave Junction, Or. 97523
phone/fax (503) 592-2395


Tsmeta Forest Nursery
Hoopa Valley Tribal Council
PO Box 368
Hoopa, CA 95546
(916) 625-4206
---
Return to the Trinity County RCD Home Page